GUIP – NAVTIS: the synergy of Brest maritime expertise in the service of Marine Nationale heritage
GUIP Shipyard and NAVTIS Group have once again secured the maintenance and in-service support (ISS) contract for the sailing boats of France's military navy, Marine Nationale. Over the next four years no fewer than nine boats will be benefiting from the expertise of the Brest yards' shipwrights and technicians.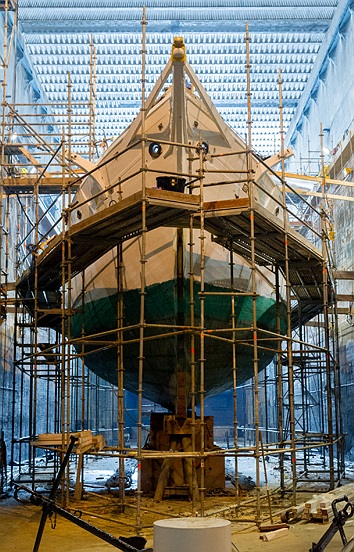 Marine Nationale, in addition to its capacity to deploy a comprehensive range of sea and air resources over great distances, also possesses a "fleet" of sail-training ships such as the yawls Mutin and La Grande Hermine and the schooners Étoile and Belle-Poule.

Tasked with teaching seamanship and the values of the mariner, these vessels are veritable schools of the sea dispensing practical training and team-building. And, of course, they are masterpieces of maritime heritage.
From their home port in Brest the schooners voyage throughout Europe and take part in major nautical events, such as the Tall Ship Races. They are ambassadors of France, promoting the values of Marine Nationale and expertise in the naval sector.

France's naval support command, Service de Soutien à la Flotte, is responsible for keeping them afloat and every four years puts out a tender for the "In-Service Support of Wooden Vessels and Sailing Ships".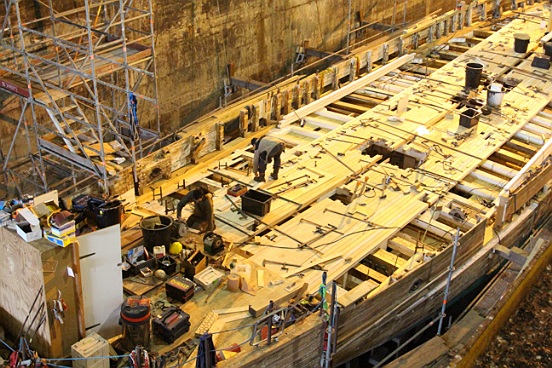 Awarded the contract in early January – for the third time! – Brest-based GUIP Shipyard is known internationally for its specialist expertise in the restoration of heritage vessels, both working boats and classic yachts; whereas its partner NAVTIS is a long-standing provider of naval construction and repair services and active in the field of marine energy. GUIP Shipyard will take care of the woodwork (frames, planking, mast and interior joinery) while NAVTIS will be in charge of fluid systems, piping, electricity, mechanical engineering and shipboard electronics… All works will be supervised by Brest naval support command to ensure compliance with specifications.
The shipyards, both expert in their specific lots, know each other well and over the coming four years their synergy will be applied to the nine vessels in question. Works will be carried out at either Quai Malbert or at the former submarine base where the sail-training schooners will be dry-docked.
The first vessels to be taken in hand by the shipwrights and technicians will be the admiral's launch PM1 (deck, propshaft, shipboard electronics) and the yawl Grande Hermine (saloon refit). Thereafter, the following works will be undertaken:
Schooner Belle-Poule (new sternpost);
Diver launches Stenella and Pastenague (general refit);
Schooner Étoile (new bulwarks, rails, wales and engine room);
Tender Enez Hir (general refit);
Cutter Feu Follet (mainmast);
Cutter Mutin (fifteen new planks and a new water tank).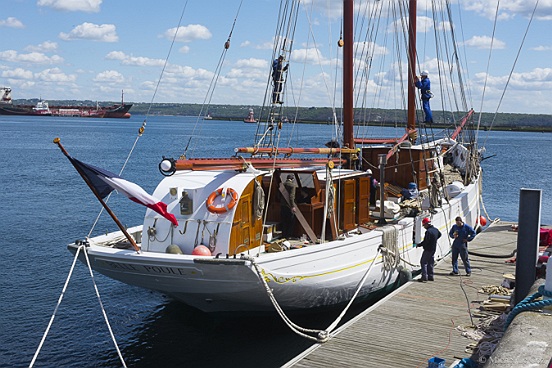 What they say:
"We are proud that Marine Nationale has chosen to work with us once again. It is important for us to maintain our expertise and continue to train shipwrights on large wooden vessels. And of course it reinforces our reputation on the international market."

Yann Mauffret, director of GUIP Shipyard
"We take pride in customer satisfaction and trust. We have already demonstrated that our two companies are perfectly complementary despite our differences in size, skills and management processes. What counts is the desire for the men and women of both companies to work together."

Bruno Pivain, chairman of the NAVTIS Group
"They may be traditional, but Marine Nationale's wooden vessels are operational and require meticulous maintenance. With seven years' experience under their belts the collaboration between GUIP Shipyard and NAVTIS is perfectly adapted to fulfil this special contract designed to ensure the future of our vessels. I am sure they will rise to the challenge of providing in-service support over the coming four years."

Marc Souquière, commander, Naval Support Command