Guip Shipyard, playing an active role in Brest's maritime economy
On 26 March 2015, Guip Shipyard showed once again its commitment to Brest's maritime community by playing host to the UMBR on the occasion of the Brest maritime union's thirtieth anniversary. But that doesn't prevent the yard from operating far from home. In recent months Guip's shipwrights have worked on two classic yachts in the Mediterranean.
The first of these was the Morwenna. A 16.8 m gaff schooner designed by Linton Hope in 1914, Morwenna was completely rebuilt by the yard a few years ago. It was a job that required extensive research into her history. "She's one of our most successful restorations," said Yann Mauffret as he watched her go back in the water in 2013. She soon returned to her home port of Antibes and it was there that the shipwrights from Brest recently carried out some general maintenance and tweaking.
The other was the Sonny, based in Minorca. This 15.60 m sloop was designed by German Frers Senior in 1930 and financed in part by his cousin Guevara (Che's father!) who had shares in the Buenos Aires shipyard that built her. Commissioned by Argentina's former president Jose Figueroa Alcorta, she was built with top quality South American timber and launched in 1935.
Recently refitted in Argentina, Sonny suffered damage to her toe-rails and gunwale in a storm off the Balearic Islands and that's when Guip Shipyard was called in to help.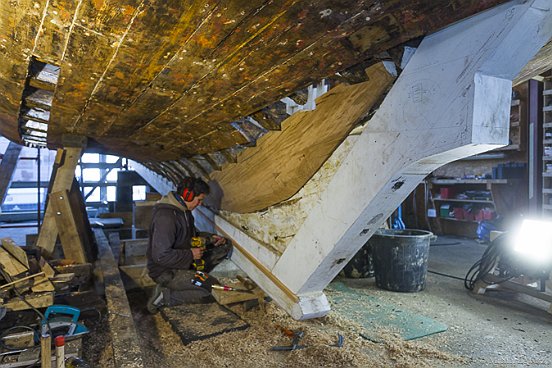 After an exacting career fishing for scallops in the waters off Brest, the 15-tonne General Leclerc retired in 1973 and was subsequently acquired by the sailing trust Lenn Vor. But her hull (11.4 m LOA, 4.05 m beam) was in a poor state and required an almost total rebuild at the yard. Today, the dredger's backbone has been replaced and Guip shipwrights are currently working on her frames and floors. Everything possible is being done to get the General Leclerc ready for launching on 14 July in Tinduff. And it will be a traditional launch down a wooden slipway, accompanied by festivities worthy of such distinguished maritime heritage.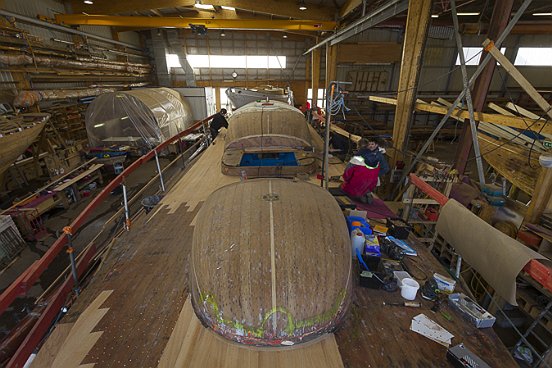 Built by the Lemaistre Shipyard in Fécamp in 1959, the Patron François Morin was commissioned for service by the SNSM, France's lifeboat institution, in 1960. Stationed at the Isle of Ushant, she carried out 198 rescue operations (including the Amoco Cadiz) and 250 medical evacuations in a career which spanned thirty-five years. For the islanders the boat represented, for decades, a vital link with the continent.
Her cross-laminate skin of mahogany planking and watertight compartments make her an unsinkable, all-weather masterpiece of naval construction. The inner planking is clad on the inside with copper sheet up to the waterline and on the outside, with canvas and a second layer of planking… With such solid specs, it's easy to understand how she managed to shrug off a collision with a rock that left a 30 cm hole in her hull!
The boat has been in the yard for a comprehensive rebuild and the works should be completed this year.
In addition to her reputation among the islanders of Ushant, the Patron François Morin was added to France's register of maritime heritage (Bateau d'intérêt patrimonial, BIP) in 2008 and, in 2010, she was granted historic monument status.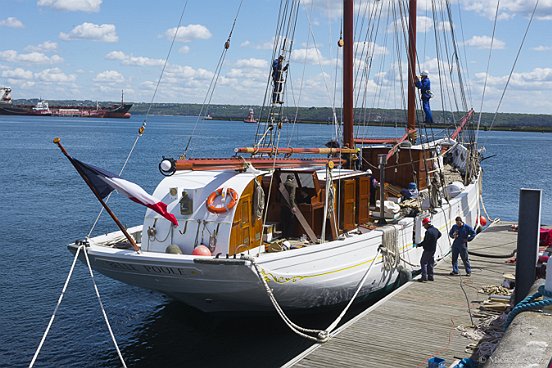 On 22 January 2015 the schooner Belle-Poule, sail-training ship of France's military navy Marine Nationale, entered dock 19 of Brest's former submarine base for a major refit. Such refits occur every four years for a duration of five months, the purpose being to maintain the schooner in perfect condition despite her grand age of 83 years.
The current refit includes rebuilding the coachroof dating from 1975, replacing navigation equipment, changing the generating sets and completely overhauling the engine room (new diesel tanks, water heater, pipework, wiring, and soundproofing). As for the hull, various planks, stanchions, deck beams and deck planks have been replaced. Aloft, she gets a new yard for the fixed topsail and a new gaff for the mainsail.
In total more than 200 separate jobs have been carried out by Guip Shipyard, the Navtis company, Marine Nationale's logistics department and the crew.
With the refit completed, the Belle-Poule is ready to pursue her task of training Marine Nationale's officers and the students of France's various naval academies. She will also be representing France in the first leg of this summer's Tall Ships Race between Belfast (Northern Ireland) and Alesund (Norway). After calling at the Faroe Islands, the schooner will head for Iceland for an official visit and then on to Scotland before returning to Brest in mid-August. A fabulous sailing programme for 2015!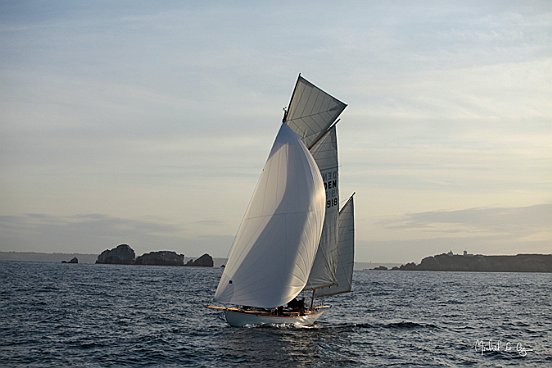 In total there have been seven yachts called Runa, each designed by Danish architect Gerhard Rønne between 1910–1920. When classic yacht enthusiast Yves Carcelle tracked them down and set about restoring them to their former glory, a saga was born. Historian Jacque Taglang tells the story of these boats in his book La Saga des Runa.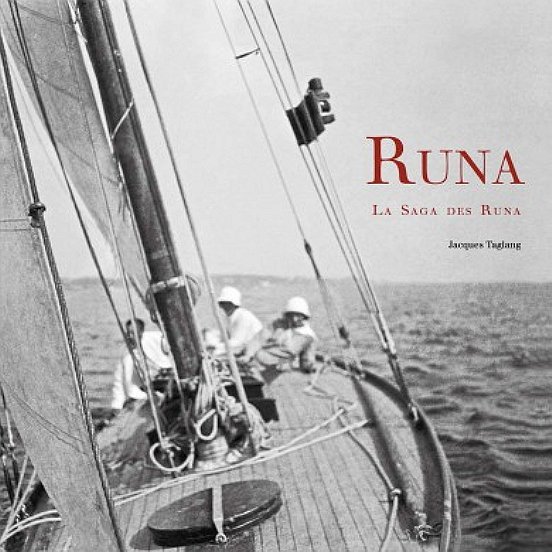 Guip Shipyard has restored two vessels in the series. The first of these, Runa IV, is a 15 m gaff yawl whose most recent outing was the Morbihan Week which ran from 11–17 May 2015.
As for her sister Runa VI, a gaff cutter, her season is getting underway in the Mediterranean with a full programme of events, including Les Régates Royales de Cannes and Les Voiles de Saint-Tropez.